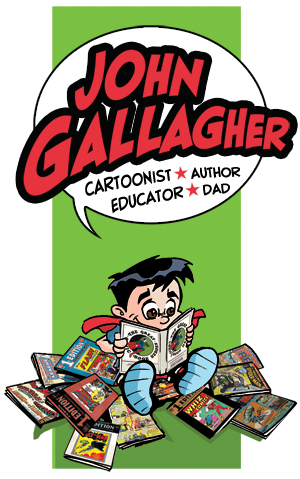 John Gallagher Comic Talks & Workshops

Drawing his own comics since the age of five, John Gallagher learned to read through comics (and actually earned the distinction of reading every book in his elementary school library!).

Today, he is the award-winning artist and writer of Buzzboy, Roboy Red, and, with daughter Katie, Zoey & Ketchup!
John brings his trade to life through his interactive, humorous and highly entertaining walk through the world of all things creative-- an educational and enlightening endeavor for
kids and adults alike!
Topics Covered:
How to Draw Funny and Heroic Characters
Creating Stories from Your Own Experiences
Step-by-Step Comics Creation,
History of Comics, and Much More!
(John is also available for teaching opportunities with private lessons, home schools, and higher education.)
FOR COMIC TALK INFORMATION PLEASE CONTACT:
Beth Gallagher
beth@sky-dog.com

Sky-Dog Comics and Design
9814 Flintridge Court
Fairfax, VA 22032
301.452.1459