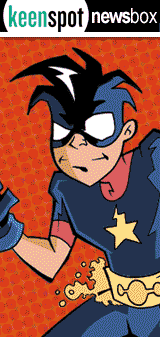 Breaking News: Buzzboy comics can be read everyday at the new Buzzboy/Keenspot page-- Check it out! >>
ABOUT SKY-DOG COMICS
WHO ARE WE?
Based in the Washington, DC Metro Area, Sky-Dog Comics aims to make comics fun! Sky-Dog is the studio behind Buzzboy graphic novels and comics, Roboy Red, More Fund Comics, and custom corporate and educational comics. Bringing good design to the comics medium, Sky-Dog is currently developing several projects with Starbridge Media Group, on sports and corporate related comics, animation, web games, mobile app development, and beyond!
John Gallagher, Top Dog
John Gallagher Cartoonist, self-publisher, and award-winning designer, John has written and illustrated his online and printed graphic novel series Buzzboy since 1998, and has worked in graphic design, interactive media, and comics book creation studio since 1990.

Working as art director, artist, writer and virtually every facet of content creation, John has worked with such clients as The Philadelphia Eagles, Westfield Shopping Malls, Washington Redskins, Warner Bros., Checkers/Rally's Restaurants, NASCAR, and others. With Starbridge media Group, Gallagher has worked on the 3 time Emmy Winning Eagles Kids Club for the Philadelphia Eagles, and has developed story and character designs for upcoming cartoon specials for the New York Islanders and Washington Capitals.
Gallagher organized, edited, and published (with the help of over 100 creators) More Fund ('03), and Even More Fund ('04), comics anthologies raising thousands of dollars to benefit the Comic Book Legal Defense Fund. He also published Drawing Strength, a benefit comics sketchbook raising money Habitat for Humanity, benefiting survivors of Hurricane Katrina.
Gallagher has won several design awards including being placed in Print Magazine's Greatest Logos of All Time book series. Gallagher sits on the Baltimore Comic-Con advisory board, and was honored to be an Eisner Awards nominating judge in 2006. A self-professed all-ages comics "evangelist," John speaks to young people at libraries and schools across the U.S. about the power and magic of sequential storytelling. He is also a co-founder of Kids Love Comics, a non-profit organization promoting literacy and fun through comics and graphic novels.
CONTACT:
John Gallagher
Sky-Dog Comics and Design
9814 Flintridge Court
Fairfax, VA 22032
703.989.3068