ROBOY RED iS Part of THIS COOL PROJECT AT KICKSTARTER, AND BE THE FIRST ON YOUR BLOCK TO GET OUR BOOKS!

COMING SOON: Comic Book Diner – A slipcovered GN collection of cool comics for all ages.
Tired of dark, gritty comics?  Then come on into the Comic Book Diner!
Your Kickstarter can help us publish a cool slipcovered GN collection!
The Comic Book Diner Project is a series of 3 kids graphic novels by Harvey and Eisner award nominated creators Jamar Nicholas, Rich Faber & John Gallagher, each full color and 96 pages of action, humor, and goofiness, and published in a cool slipcover set. Each unique and inspiring comic tale offers adventure, humor and powerful art, just like the comics we enjoyed as kids!
Jamar, Rich and John– We are three guys who love to make comics. Fun comics. Funny comics– like the ones that inspired us to pick up pencils and create our own stories. So now we'd like to combine our works into a 3-book slipcovered set, and featuring cool all ages comics adventures. Like a diner, everyone is welcome, rich and poor, young and old–there's something for everyone and every age at the Comic Book Diner!
Comic Book Diner Project will feature art and story by all three, with each artist taking the lead on each book:

"Leon, Protector of the Playground" by Jamar- The inner city's first latchkey sidekick! Leon saves the day with his heroic mentor, but doesn't take off his mask as he goes to elementary school, and faces robot lunch ladies, super powered playground bullies, and more!

"Roboy Red" by Rich- the tale of a runaway theme park robot — thermonuclear powered boy robot fun! When a corporate magnate takes over the Roboyland theme park, he wants to use Roboy's circuitry for weapons– soon, Roboy and his friends Dara and Tuck are on the run!

"Buzzboy" by John- world's coolest super sidekick! When Buzzboy is left alone after an alien attack, he and the teen heroes need to save the day! Pop culture fun, mixed with superheroic milkshake madness!
Sample Comics, just some of the fun the CBD Boxed set holds for you and your friends!.. (PDF)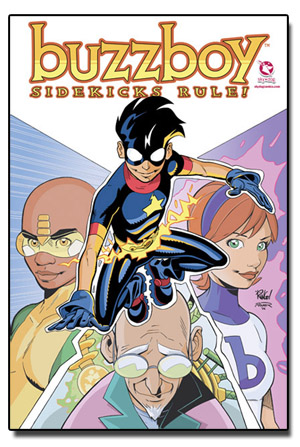 Buzzboy: Sidekicks Rule! Part1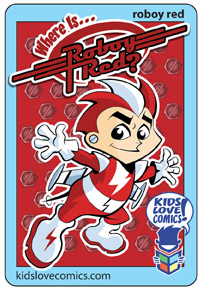 Roboy Red: Reeled In
Leon: Protector of the Playground Comic Strips